The Giraffe Blue Spot PT Lite is an excellent solution for treating hyperbilirubinemia - a threat to the well-being of 60% of full-term infants, and 80% of pre-term infants.
Effective
The Blue Spot PT Lite employs advanced technology, high-intensity light output, and large spot size to help ensure effective patient dosage and prompt results.
Patient-friendly
It also supports developmental care measures. Its light source is tucked away safely to protect patients from both ambient heat and noise, as well as the risks associated with positioning bulky equipment overhead.
User-friendly
Designed to be as easy on caregivers as it is on patients, this lightweight system features a fiber optic light pipe and innovative gooseneck design. That makes it easy to deliver light exactly where it's needed, without limiting your access to patients.
Compact and cost-efficient
The Blue Spot PT's compact size and flexible mounting options make it a fit for even space-constrained neonatal care settings. And it combines low initial cost with an ultra-long-life LED module to minimize both downtime and operating costs. 
Benefits
The Giraffe Blue Spot PT Lite makes advantages such as these routine for any neonatal care unit:
Outstanding performance
Emits Blue LED light in a narrow spectral band, focusing on Bilirubin's peak absorption wavelength to speed its breakdown.
Provides high-intensity light output in a compact, lightweight and user-friendly package.
For aggressive treatment of hyperbilirubinemia, you can use the Blue Spot PT in conjunction with our BiliSoft 2.0 Phototherapy System to maximize surface-area coverage.
Easy to use
Compact and lightweight, the Blue Spot PT is quickly positioned for precise delivery of therapeutic light. Yet it's easily rotated out of the way for patient assessment and care.
Comfortable for everyone
With the innovative gooseneck design and optics, the Blue light is aimed at the patient, away from caregivers and neighboring beds.
The light source is tucked safely away in a box well removed from your patients, protecting the baby from ambient noise and heat. This also eliminates the risks associated with placing bulky equipment directly over the patient.
Technology
Advanced technologies make the Giraffe Blue Spot PT Lite a great solution for treating hyperbilirubinemia in virtually any setting.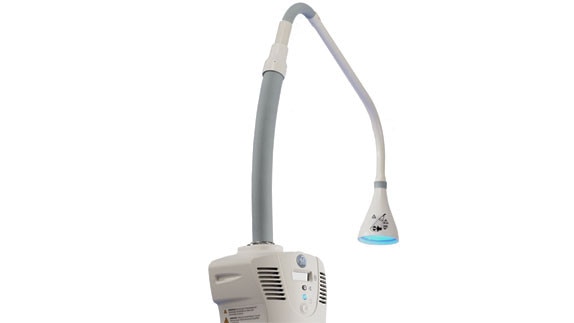 Innovative, dependable design
Therapeutic light is delivered through a flexible lightpipe for fast, easy positioning. Flexible lightpipe lets you focus the therapeutic light just where it needs to be, which minimizes exposure to caregivers and infants in neighboring beds.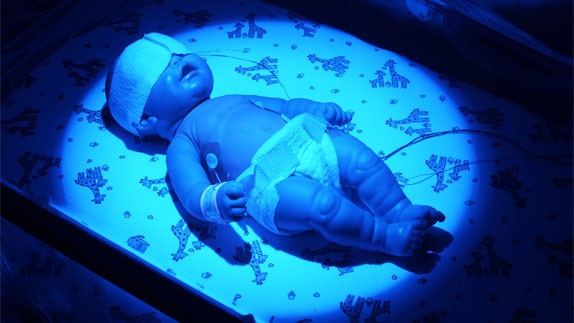 High intensity phototherapy
Delivers focused light therapy directly to the patient, minimizing undesired exposure for caregivers and patients in adjacent areas. Emits blue light in a narrow spectral band of 430-490 nm, focusing on bilirubin's peak absorption wavelengths to speed its breakdown. May be used in conjunction with the GE BiliSoft 2.0 Phototherapy System to maximize surface area coverage.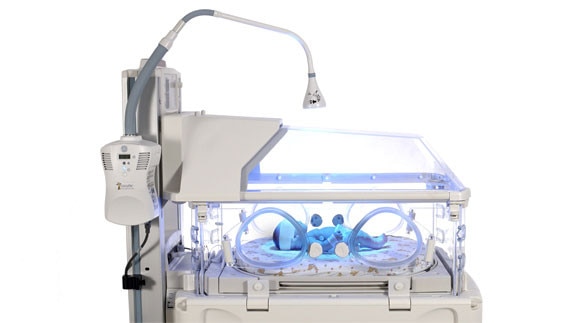 Flexible mounting options
Flexible mounting options allow for fast, easy positioning, to save both valuable time and space. Bed mounted units conserve space in all care areas. Roll stand mounted option provides added flexibility.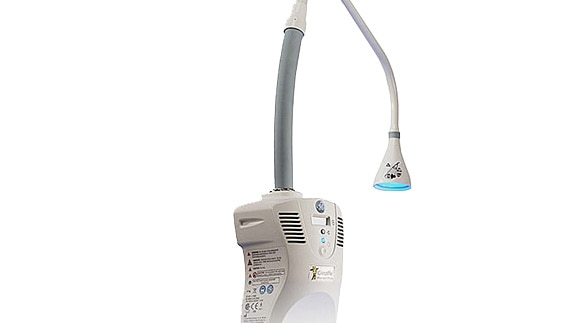 Lower total cost of ownership
Giraffe Blue Spot PT delivers significant bulb cost savings with its blue LED light source that can last up to 10K hours. 10K bulb hours is equivalent to 6-7 years of typical clinical usage (normal product lifecycle). Current halogen replacement bulb is $250 and lasts ~2.5K hours—a cost savings of approximately $1K per device over the life of the product (6-7 years). 80% less energy consumption reduces electricity costs (greener technology).
*The sale of this item may be subject to regulation by the U.S. Food and Drug Administration and state and local regulatory agencies. If so, do not bid on this item unless you are an authorized purchaser. If the item is subject to FDA regulation, we will verify your status as an authorized purchaser of this item before shipping the item.*

*There might be some minor shipping marks or scuffs, but otherwise the item is in good working condition*

*Purchase is as-is. Product was acquired via wholesale/surplus means. Buyer assumes all responsibility for testing/calibration, or having a third-party provide any testing or calibration needed.*